The Crash
The Macon scouted for the Pacific Fleet eight times in all. But when the airship left Moffett Field on Feb. 11, 1935, to go on maneuvers off the coast of Southern California, repairs had not been completed to two tail fins that had been damaged several months earlier.
Because of the need for the ship and the pressure to prove its value, Navy officials had decided to do the repair work piecemeal. Largely because of that decision, this would be the ship's 54th and final flight.
The next day, as the ship was returning from its successful mission, it encountered storm winds off Point Sur, south of Monterey. Suddenly, a crosswind struck the ship with such force that the upper fins of the previously damaged tail were completely severed, sending shards of metal into the rear gas cells.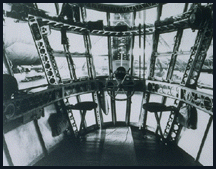 In the control car, the steering wheel went slack and the navigators felt the tail drop. Wiley ordered the dumping of ballast and fuel. Crewmen hurried about the ship discharging everything they could to lighten the tail. Off-duty personnel were ordered to the nose to help bring that end down. But the ship was doomed. After rising to nearly 5,000 feet, the Macon began to fall.
Moments later the ship settled gently into the water, and the crew, clad in life jackets and equipped with life rafts - features that had not been available to many of those aboard the Akron - jumped into the water safely. Ships were quickly on the scene to pull the men out. A radioman was killed when he jumped from the falling ship, and another man was lost when he apparently tried to retrieve his belongings. But in all, 81 of the 83 aboard the Macon survived the crash, including "lucky" Wiley.
A commission set up to determine the cause of the ship's demise concluded that the blame belonged not to the crew, but to the Navy's refusal to repair the Macon's tail damage before it was sent on its ill-fated mission.
The disastrous record of airships put the pressure on President Roosevelt to abandon the costly lighter-than-air program. The president responded by setting up a second commission, this one headed by Stanford Professor William F. Durand, to look into the future of airships.
The panel found that dirigibles had been used for purposes for which they were not intended and that they had not been given a fair opportunity to prove their value to the military. The commission concluded that these lighter-than-air craft should be given another chance. They were not.
The Macon was the nation's last rigid airship.
+ Jump to the top of the page.
Moffett Field History Tour: + BACK + Moffett History Home + FORWARD
For a text only version, please contact: access@mail.arc.nasa.gov